RSI.odt
‎
(file size: 123 KB, MIME type: application/vnd.oasis.opendocument.text)
Warning: This binary file was uploaded by another community member. Please scan it's content for malware after download.
The expected safe contents (as well a some less common but also safe content) of a ZIP archive are:

Boat model: Boat.Gbx, BoatParam.Gbx, Info.cry, Solid.Gbx, Vehicle.Gbx (,HeelCoeff.cry, VppCode0.cry, VppGenoa.cry, VppSpy.cry, VppStaySail.cry)
Boat skin: Hull.dds, Icon.dds, Sails.dds, Sails1.dds, Sails2.dds, Spi.dds, Spi2.dds, TeamMate.dds
Track: <trackname>.Gbx (multiple files per ZIP archive)
Bink video: <filename>.bik
Any other content of a ZIP archive downloaded from Virtual Skipper Wiki should be treated with suspicion.
Do not run/launch any included executable file as it may contain malicious code that could compromise your system.
If an OpenOffice.org document contains a macro then check that the source code is visible before using the macro.
---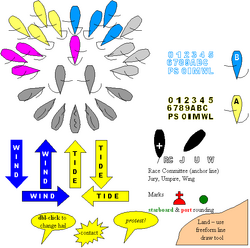 Overview
Edit
This odt (Open Document Text) file is compatible with the free to use (OpenOffice.org) OOo Writer and OOo Draw applications and allows anyone capable of using a word processor to document a sailboat racing scenario using the familiar icons as seen in the various ISAF call books. Simply copy and paste the boat and marker icons then fill in with a suitable color and optional label and you are done! Draw is capable of exporting to the Scalable Vector Graphics (SVG) file format which is the ideal format to use because SVG scales with no pixelation flaws even as your browser's Zoom feature is used.
A Microsoft Word compatible version is not offered here because MSword uses a proprietary file format and Microsoft, in general, does not cooperate with open standards such as the XML file formats used for SVG and Open Document Test (odt) and Open Document Graphic (odg) files. It is possible to create the same template for MSword but the available conversion tools do not preserve the scalable vector graphics aspect of the icons used in this file.
Your help is wanted
Edit
Please refer to the Virtual_Skipper_Wiki:Manual_of_Style#Racing_situation_illustrations and review the proposed guidelines for these images. Those guidelines are provided in anticipation of multiple contributors supplying images and with the goal of ensuring a degree of similarity or consistency from one image to another. If you are one of the first to contribute then you get to rewrite the guidelines if they make no sense for you.
These illustrations are wanted for various articles at Virtual Skipper Wiki. It's too big a job for one person but if divided among several then it should be much less of a chore. If the file name does not adequately describe the illustration needed then use What links here from the left-hand navigation sidebar to determine which wiki article uses that illustration. Then read the article and see if that context clarifies what illustration is needed.
If it does not then simply leave your clarifying questions at the talk_page for each wanted illustration. Somebody else will either answer your clarifying question(s) or take over for that particular illustration.
Racing Scenario Illustrator - Attrib: najevi (Inspired by an MS Word document prepared by Angelo Buscemi.)
Licensing:
Edit
Appears on these pages

of
Uploads may be images or videos or any other miscellaneous file type such as: ZIP archives...

Forums: Index > Nautigals & buoys > Rule 10 vs Rule 18.3a at a starboard rounding This situation...
File history
Click on a date/time to view the file as it appeared at that time.
Ad blocker interference detected!
Wikia is a free-to-use site that makes money from advertising. We have a modified experience for viewers using ad blockers

Wikia is not accessible if you've made further modifications. Remove the custom ad blocker rule(s) and the page will load as expected.